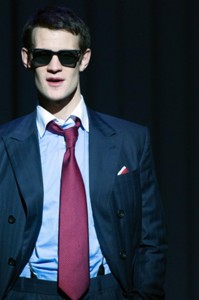 Having enjoyed privileged insight into the making of this musical with my audio podcast featuring composer Duncan Sheik's original demos (check out Podcasts) and director Rupert Goold's lively mind, this is not so much a review, more a reflection on this startling new arrival at the Almeida. First things first: it's not often that the entire fabric of a musical – book, score, sound, design – are so much of a piece that any one element would be inconceivable without the others. But this "musical dramatisation" of Bret Easton Ellis' notorious novel about the perverse "entitlement" of the greed-fueled 80s is so on-the-money in terms of look, sound, and feeling that it's like total immersion in the ethos of an age.
If you think you are hallucinating, you are. Because just as the novel repeatedly courts the surreal, so Rupert Goold's high-concept staging – stunningly abetted by Es Devlin's design and Finn Ross' eye-strafing video – turns stylisation into a kind of hyper-reality which not only chimes to perfection with Roberto Aguirre-Sacasa's laceratingly witty book but choreographs (Lynette Page) and makes physical the absurdity of these frighteningly empty and self-possessed people. When "You are What You Wear" (a contemporary "list" song which is to designer labels what Cole Porter's "Always True to You in My Fashion" is to fidelity) is taken to its natural extremes it seems entirely logical that the whole company should appear in sleek trenchcoats but with shiny black Barney's New York bags instead of heads. That's how a show about the vacuousness of an era itself avoids being vacuous. And whilst we laugh loudly at the pretentiousness we are saddened by the shallowness.
There is a deeply disturbing encounter between Patrick Bateman (a lissom and buffed Matt Smith who appears stranger and more alien than in his last incarnation) and a homeless man which takes the selfishness and inhumanity to ugly extremes and equally there is a glimmer of compassion and perhaps even hope (the hope of a love that dare not speak its name) when Bateman finally recognises the one "real" person in his universe, his secretary Jean (the excellent Cassandra Compton), and fleetingly puts feelings before primitive instincts.
How clever that the one conventionally cued book song in the entire show – "A Girl Before" – belongs to the one well-adjusted character in it. Compton makes a real connection with it. Otherwise the soundtrack in Bateman's head is the pulsing, pumping, soundtrack in our ears. The composer of Spring Awakening (one of the great musical theatre scores of the last 20 years) remixes and morphs some familiar 80s tracks into the fabric of his score and Music Director David Shrubsole does super things with vocal arrangements at one point making Palestrina out of the basest pop.
The character of Sheik's songs are kinetic and hypnotic, the repetitions nagging and remorseless until a single catch in the melody or an unexpected turn throws a new light on to its shiny surfaces. And Bret Easton Ellis's novel seems to have found a true dénoument in the final number "This is Not an Exit". This, folks, is what an original new musical looks and sounds like.