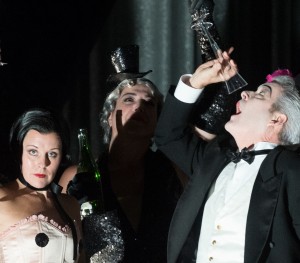 Eisenstein's pocket watch (every seducer needs one) looms large and his wife Rosalinde is not having a good night. Recurring nightmares accost her and, wouldn't you know, bats figure in every one. Is Christopher Alden reallygoing all Freudian on Johann Strauss' tissue of an operetta? I'm afraid so. Soon as you like Rosalinde's secret lover Alfred will be stripped of more than the tenor's greatest hits (including Fidelio, of course) and Prison Governor Frank and his horsewhip brandishing wannabe Nazi jailer Frosch (Jan Pohl) will be crossing sexual frontiers in readiness for the chorus line of fantasists and fetishists at the adrogynous Prince Orlofsky's "private" party. Oh dear, Fledermaus may at heart be about letting go of social and sexual constraints but when you pile this much kinky knowingness upon it  you suffocate the very things you seek to liberate. It wasn't too funny to begin with; it sure as hell isn't funny now. It DIED on opening night; an air of desperation prevailed.
I'm a big fan of Christopher Alden (his Britten's Midsummer Night's Dream in this house was extraordinary) but Strauss and his librettists have the last laugh here because they fashioned something very specific and very charming for a very particular audience and you overwork it at your peril. Part of the problem (as with so many operettas and musicals) is the book – the swathes of spoken dialogue (translation: Stephen Lawless and Daniel Dooner) which in a house this size is apt to sound like it's being pitched for the hard of hearing. A lot of over-enunciated, over-projected, embarrassment and in the case of Jennifer Holloway's convincingly "male" Orlofsky a series of vodka-induced freak-outs which the poor woman must have been praying would raise a titter from someone other than the director's guests. Only Andrew Shore – that past master of characterisation and comic-timing – came through this one with his dignity intact.
And in vain we waited for those delicious numbers hoping against hope that at least they would shine. But the singing – with the notable exception of Rhian Lois as Adele, the Eisensteins' maid, who dispatched her hit numbers with aplomb popping all the requirements above the stave – was pretty mediocre. Most over-parted was Julia Sporsén as Rosalinde for whom this deceptively difficult role was too much of a stretch. I'm afraid she was as yet nowhere near what was required for her second act showstopper, the Czardas.
Eun Sun Kim conducted with spirit if a somewhat assumed understanding of the Viennese style but for my money this sorry confection is best forgotten – and soon.