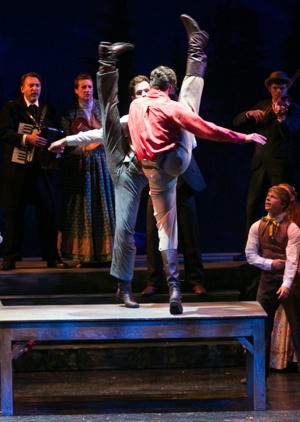 The sound levels seemed to be in synch with the pine trees backdrop and went up and down like a whore's knickers. In this the official press night for a lengthy stage tour of the much-loved MGM movie classic it was something of a lottery whose mic would be open and when. So getting the sound right needs to be a priority in the months to come – though exactly how much of Al Kasha and Joel Hirschhorn's feeble additional songs we want to hear is a moot point. One is apt to forget just how few original songs Gene De Paul and Johnny Mercer actually wrote for the movie. They were goodies, all of them, and so one has to ask for starters why anyone would want to lose "Spring, Spring, Spring" when they've nothing half-decent to replace it with? The new songs are not even remotely a match for the old in stylistic terms. You could pop them into Les Mis and no one would be any the wiser.
But, hey, Seven Brides for Seven Brothers, the surprise hit of its day (even the studio thought it a no-hoper), was always about the footwork anyway. Michael Kidd's athletic choreography – is there a more breathtaking display of male virility in movie musicals than the Barn Dance? – was first and last a celebration of testosterone and not even Howard Keel's vocal and physical brawn could compete with that. Sam Attwater, the star of this revival, certainly can't and it's nothing to do with his ability or charm but simply that Keel's are big shoes to fill and Attwater is too lightweight and too boyish to come even close. Which is definitely a point scored for the ladies because when feisty Helena Blackman slaps his beautiful hide it's for sure a blow for 21st century equality.
So go for the dancing – slickly reinvented by the director Patti Colombo whose use of an onstage fiddler is a welcome touch of authenticity – and go for those moments so beloved from Christmas afternoons on the couch that you tear up just because you know they're coming – like our first sight of the six brothers shaven and scrubbed up in their distinctive coloured shirts. Ah, the nostalgia of it.