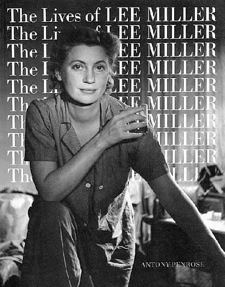 A weekend to restore one's faith in the current evolution of music theatre. Jason Carr and Edward Kemp's Six Pictures of Lee Miller (RADA) could hardly inhabit a more different place in the ever-changing universe of musicals from Craig Adams and Ian Watson's Lift (Soho Theatre) – and yet the sophistication and finish and insightfulness of both is hugely encouraging.
Carr and Kemp's piece (first produced at Chichester in 2005) spirits us through the life and times of the beautiful and gifted and finally defeated (through alcoholism and depression) Lee Miller chronicling her coming of age among the surrealists of Paris – where she fell under the spell (and camera) of Man Ray – and her secret life as a photo journalist during World War II. What I admired most about this ambitious and compelling piece of work was its truly collaborative spirit. Carr and Kemp plainly thought long and hard about how book and score should impact upon each other, how music should enhance but never impede the dramatic narrative. Where Kemp's libretto is fiercely imperative (and that, I would say, is where its strength lies) Carr remains silent. The poignant final scene is free of music where conventional music theatre wisdom might have pointed to some sort of cathartic endgame for the score. But how much more emotive was the fade to black when the last words had been spoken. And how beautiful the resolution that the love between Lee and Antony Penrose was something that ran so deep that singing about it would add nothing to our perception of it. At the other end of the spectrum, the turbulent union between Lee and Man Ray could be characterised with anger and cynicism in the number "Has Anybody Seen Man Ray?". Jessie Buckley delivered that with venomous frustration – and for anyone who might have been wondering if there was life after reality TV for this hot contender in the search for a Nancy for Cameron Mackintosh's Oliver! here she was firing on all pistons at the head of a terrific young cast of RADA students. A really substantial piece of work, then, sharply directed by the librettist.
Meanwhile over at the Soho Theatre, Perfect Pitch were giving a well-earned outing to the work of a young composer who has caught my ear on a couple of occasions – Craig Adams. Lift is a musical about eight characters in search of an identity – or at least a true one. A lift heads for street level from the bowels of Covent Garden underground and in Adams' gritty urban counterpoint we recognise the familiar sound (and friction) of connections being made. Ian Watson's book trawls us through the internet chatrooms where no one is who they say they are but rather who they want to be. We're teased, wrong-footed, willfully misled, thrown off the scent of precisely (or even approximately) who is really relating to whom and as individuals emerge to share their identities, their hopes, fears, loves, losses (and maybe eight is too big a number for the creators to fully identify) Adams' rangy, rocky, highly emotive vocal lines give voice to real feelings urgently expressed in that edgy "now" kind of way. He has a real gift, does Adams, for heightening and powering home the text and this bunch of voices -straight from the school of Rent and Spring Awakening – gave the piece terrific immediacy. Small wonder the "now generation" have been turning out in goodly numbers to see it.