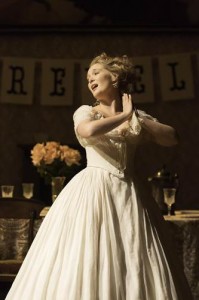 Following on so swiftly from the stonking revival of A Chorus Line at the Palladium here comes another show business piece about the joys, disappointments, and heartaches of life upon the wicked stage. In the Donmar revival of Arthur Wing Pinero's wistful and fabled comedy, playwright Patrick Marber has tweaked and embellished and generally sharpened the original for contemporary sensibilities and in harmony with director Joe Wright's nose for style and period detail has delivered a delicious confection where capital is made of Pinero's creakiness in pursuit of his charm.
Designer Hildegard Bechtler's suggestion of a proscenium where there cannot and would not be one and her rolling back-cloths so evocative of time and place and the withering of Rose Trelawny's fortunes through the flowers that lent her their name remove us to a vanished but still recognisable world where attitudes were boldly struck, emotions stifled and indulged, and fashions fast changing. But the real masterstroke of Marber's adaptation and Wright's staging is the double casting which takes two distinct worlds, on and off stage, and through deliciously "knowing" artifice makes them one. And so the oval table top, focus of much animated thespian banter at Mrs. Mossop's friendly theatrical boarding house, is hoisted to become the lowering ancestral portrait in Sir William Gower's stultifying and loveless mansion where Miss Rose (the very watchable Amy Morgan) briefly glimpses her future as a woman who has "married well". Real life, she soon realises, is no substitute for make believe. But real life will in turn give her acting an added dimension and depth – and she will in time symbolise the seismic change in theatrical style.
And that's where Trelawny of the Wells finds its depth as well as its humour in this charming revival. Change. It's a big word but its every facet is explored here. The wonderful Maggie Steed must straddle two seasoned "dames" – the big-hearted Mrs. Telfer for whom the theatre is family and the indomitable Miss Trafalgar Gower for whom the family is theatre. "A troubadour in Cavendish Square!", she booms. Ron Cook's marvelous double as Mrs. Mossop and Sir William Gower shows us two aspects of authority ("Save your tears for the bedroom") and in one inspired moment where Mrs. Mossop is informed that (her alter ego) Sir William is at the door there is a delicious double-take in which Cook, the actor, ponders how on earth "she" might make an almost instant transformation to "he". In that one moment the spirit of piece – the transforming effect of theatre, on audiences, on lives – is succinctly, deftly, addressed.
Photo: Amy Morgan as Rose Trelawny by Johan Persson