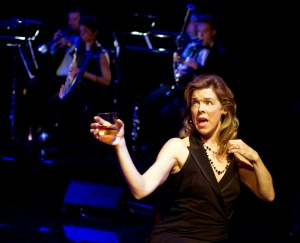 Watching the Stephen Sondheim/Julia McKenzie compilation cabaret Putting It Together (is that a fair description of this hybrid?) in its latest incarnation – courtesy of producer/musical supervisor Alex Parker – one's thoughts turn once more to the issue of "context" in Sondheim. It is, of course, the reason why so few of his songs have an independent life outside of his shows and why, even if they do, something feels lacking – as if the life-blood of these numbers has been drained along with the surrounding drama. The interesting (and occasionally irritating) thing about Putting It Together is the way in which the character and subtext of a song subtly (or in some cases unsubtly) shifts in response to its new context, how a number like "Lovely" from A Funny Thing Happened on the Way to the Forum is actually funnier and more ironic split between the bimbo and the world weary wife (in whose voice it becomes a bitchy cocktail party aside) than it ever was as merely a "dumb blonde" number.
Some choices feel contrived and too "easy", others raise a smile for ingenuity or a raised eyebrow of surprise when a rarely heard song – like "Bang!" cut from A Little Night Music – actually finds a niche, a perfect fit, in this context where it absolutely didn't in the show for which it was written. There's one startlingly effective moment, musically speaking, where the 50s pop song parody from Assassins "Unworthy of Your Love" becomes a touching little sofa duet at the heart of the show. It's startling because the music is so untypical of the composer and without the original context to explain why it sounds like it does, it's as if another composer has infiltrated the party.
The party metaphor is actually too, too, obvious and pulled directly (in terms of its cynicism) from those coruscating scenes from Merrily We Roll Along. Plenty of opportunity for a bitchfest and for reflection, too. But equally for easy options like the placing of "Being Alive" and the all too inevitable let-bygones-be-bygones finale "Old Friends" glibly to put aside all the heartache and antagonism and feel the love. Irony? Or just a spirited close to the concert party?
This party had its moments – David Badella, Daniel Crossley, Janie Dee, Damian Humbley, Caroline Sheen all found something to chew on – and a characterful six-piece band (who did the excellent arrangements?) under nimble-fingered Theo Jamieson but the cheeky opening conceit gave Daniel Crossley and Janie Dee an early chance to wrong-foot us and it was they who individually nailed two of the most enviably virtuosic numbers. Crossley's "Buddy's Blues" was a complete knock-out, vocally and physically, getting new laughs from even seasoned Sondheimites, while Janie Dee's tongue-twister "Getting Married" managed what Julie Andrews managed in New York back in 1999 and that is to dazzle us with the patter but more importantly to inflect and colour the words so that the laughs really land. Terrific.