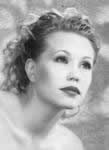 I first came across Helena Juntunen in an Osmo Vanska concert at the South Bank. She sang Sibelius – and she sang it with such engagement and power, such rapture, that I came out at the interval telling anyone who'd listen that I was hopelessly captivated. Who was she, where had she come from, where was she going?
Juntunen has a quirky stage persona – there is danger behind the girlish charm, a sense that everything is personal. Songs sound to be created in the singing of them, the storytelling intense and immediate as if she might change the outcome on a whim or through determination.
The poor unfortunate who yelped distressingly and involuntarily through her Schumann and Strauss bringing things to a halt (and an early interval) at this Wigmore Hall recital lent an even more surreal edge to the proceedings. In the aisle nearby my seat a beautiful guide dog named Holly (one needs to find these things out) dozed obliviously.
Juntunen sang Ades' setting of Tennessee Williams – "Life Story" – with slightly bizarre American intonation and a Hopperesque strangeness. What she was doing in that particular hotel room was anyone's guess. With an artist like this you expect the unexpected.
Then she sang Sibelius again and the dialogue between mother and daughter in the familiar "Lovers' Tryst" was so intense, so charged, that for the first time ever I wanted to know what came next. What happened to these people? What will happen to Juntunen? I'll be watching and listening.