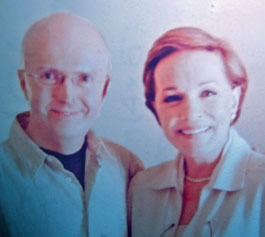 Blake Edwards' adaptation of his own movie Victor/Victoria would seem to be stalked by a dark star. Henry Mancini fell ill and died whilst trying to complete the much-augmented score, Julie Andrews' vocal woes began in the wake of its Broadway run and subsequent tour, her Tony Award nomination declined on the grounds that the absence of any other nominations for the show did not reflect "a company achievement". The reality was that it was a pretty poor show and Julie Andrews was carrying it. Eight performances a week and a cast album recorded on consecutive Sundays and Mondays in the first weeks of the run. I was at those sessions and can recall her total exhaustion. Her professionalism disguised the fact that the last thing she wanted to do was exchange observations on the show's progress with me (this was our second encounter) and I can remember to this day her asking her assistant for "a cup of tea and a banana" and whispering her way through our interview with her customary generosity and enthusiasm. They really don't make 'em like that any more.
Andrews' commitment to Victor/Victoria had a great deal to do with her commitment to Blake Edwards, her husband, but I remember her mourning the loss of Mancini's unfinished new songs, snatches of which she had heard and seen. Two or three more key numbers might have made all the difference.
As it is Victor/Victoria has only the bare bones of a score to hang on Edwards' sporadically witty book and revisiting it in Thom Southerland's modest staging at the Southwark Playhouse its thinness could not be disguised with good intentions. The cabaret numbers (so memorable in the film version but not, oddly enough, on the Broadway stage) needed more glamour, of the two big ballads only one is by Mancini – the peach of a take-home song "Crazy World" – and the other is a half-baked 11 o'clock number by Frank Wildhorn, "Living in the Shadows", which the ever-terrific Anna Francolini did her best (as did Andrews) to imbue with some star quality. She was aided and abetted by a really endearing and funny performance by Richard Dempsey as "Toddy" whose enthusiasm for Blake Edwards' one-liners was above and beyond the call of duty.
So was the entire company's spirit when the lighting failed (it's that V/V jinx again) and the entire second act (and part of the first) had to be played in the sepulchrally yellow glow of working lights. Good to know that the old adage "the show must go on" still holds true.
Maybe Victor/Victoria is a lost cause, maybe Mancini's presence in spirit only will never be enough for it to endure. Its message is heartening, though, and that at least was something that we could take away from this technically challenged matinee.