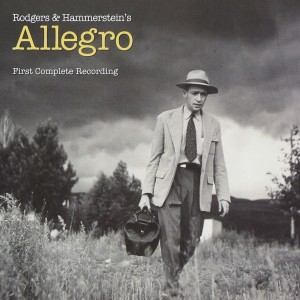 Stephen Sondheim has called it "The first really good experimental show" – and he should know. He was a gofer on the short-lived original production in 1947 and, for old times sake and because Sondheim has always championed the bravely theatrical, he has a key line of dialogue from Oscar Hammerstein's ground-breaking book in the final scene of this the first complete recording of Allegro.
After Oklahoma! and Carousel in quick succession reintroduced drama, real drama, to the Broadway musical Rodgers and Hammerstein elected to push the envelope still further with the first of only two musicals not adapted from another source. Allegro addressed the still burning issue of healthcare versus big business – not bad for a 62-year-old musical! – and did so through the life and experiences of one man, Joseph Taylor Jnr. This was a birth-to-mid-life-crisis synthesis, a piece about the corruption of the idealist, and the responsibility to self in conflict with the responsibility to community. Its model was Thornton Wilder's Our Town and its form was equally ambitious with an important role for chorus commenting Greek-like on the action whilst also reflecting on characters' innermost thoughts. Music and words were held in high relief to one another with song and dialogue intricately interwoven. One of the reasons why this recording needed to be as complete as it is – and not just a selection of key songs – was to honour the patchwork quilt effect of Rodgers' score where melodic ideas arrive almost by stealth to blossom or not into fully fledged songs. Or vice versa.
The great and the good of the past, present, and future of the Broadway stage turned out in force to be part of this recording but the band was recorded separately in far-off Bratislava (was this by and large a budgetary decision?) and whilst the colour of the sound is nicely in period – thanks principally to the sepia tinta of Robert Russell Bennett's gorgeous orchestrations – my single biggest reservation about this recording is that laying down vocal tracks over pre-existing orchestral tracks pretty much eliminates those spontaneous in-the-moment phrasings that can really make a number land. There is no doubt that the delicious Judy Kuhn needed a little more room in the final phases of "So Far" – one of the score's brightest gems.
But that apart, the boldness and ambition of the piece registers strongly, the fast-forward effect of the narrative achieving a series of volte-faces with tragedy side-stepping into celebration, sadness to joy, and back again. Of course, there are take-home songs, but the audience had/has to earn them. "A Fellow Needs a Girl" is one, "Money Isn't Everything" ("Unless You're Very Poor") is another, a cynical (and suitably sing-song) anthem for all time. "The Gentleman is a Dope" gets nailed by Liz Callaway, the title song "Allegro" is up there with "On Your Toes" (though the dance break – and dance is a big part of the show – leaves much to be desired in terms of tightness and swing), and "Come Home", achingly sung by Audra McDonald, is more than worthy of the composer of Carousel – one of Rodgers' most indelible creations.
That key line of dialogue that Sondheim gets to deliver ends thus: "He sees a signpost pointing down a new road/ And he may take a new turning/ That will affect the rest of his life." Rodgers and Hammerstein took that turning. And so did Sondheim. And musical theatre is so much richer for them.