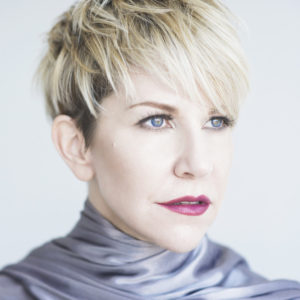 In this age of rampant genre-hopping it's actually hard to know what to call Joyce DiDonato's cracking Gramophone Award winning confection In War and Peace. In performance it was neither a recital (the category in which it scooped its award) nor a concert but rather an indefinable hybrid whose subtly themed narrative of baroque arias was played out through a miasma of dry ice, funky lighting, Bowie-esque make-up, and one killer frock. This is how theatrically savvy divas like DiDonato do business these days. If one had to reach for a label (and we do so like to apply them) then Music Theatre would be the catch-all phrase. But with those two words comes a dizzying array of genres from Opera and Musicals to Cabaret and Review, all with their own distinct forms and, more importantly, styles.
Next February at London's Barbican DiDonato stars in the inexplicably belated UK Premiere of Jake Heggie's opera Dead Man Walking, based on Sister Helen Prejean's book (and, of course, movie) of the same name. As contemporary opera goes, Heggie's musical universe could hardly be further removed from the latest offerings from the likes of Thomas Ades, George Benjamin and others on this side of the pond to whom the major opera commissions generally go. And thereby hangs an interesting anomaly.
A year or so ago I held court with DiDonato and Heggie in a post-concert event following their performance of Heggie's dramatic song-cycle (is that a fair description? do we need one?) Camille Claudel: Into the Fire. We discussed word-setting, grateful, singable, word-setting and, more pertinently, the influence of America's rich musical theatre heritage on composers as diverse as Aaron Copland, Carlisle Floyd, Samuel Barber, Marc Blitzstein, John Adams, John Corigliano – the list goes on and on. And yet there are those for whom the "Broadway" legacy is acknowledged with suspicion, those who regard the predominantly tonal language of Heggie and the considerable international success of both Dead Man Walking and, more recently, Moby Dick as the result of them being populist and lightweight and worst of all "conservative". When Broadway composer Stephen Schwartz (he of Godspell and Wicked) ventured into the realms of opera and a more sung-through form with Seance on a Wet Afternoon one critic referenced his Broadway credentials as if that were a bad thing. That's like saying that West Side Story is far too good simply to be a musical (look what happened when they tried to "operatise" it) or that Stephen Sondheim's Sweeney Todd is operatic in manner and therefore belongs in an opera house.
The tragically short-lived Marc Blitzstein made no distinction between his opera Regina and his glorious musical Juno (one of Broadway's great forgotten scores). Both played Broadway theatres. And why not? So let's pay less attention to labelling and start breaking down unhelpful divisions.
And while we're about it, let's stop using the term "Art Song". What is that supposed to mean? That there is somehow only "art" in songs thus labelled? Of course, that was never the intention – but neither was the suggestion that calling something an opera would somehow elevate its importance.