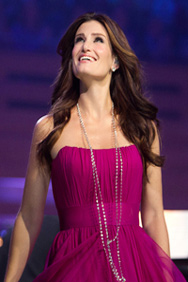 Even if you were the star of The Wizard of Oz prequel it takes chutzpah to sing that song before making your entrance. But then Idina Menzel was never one for subtlety or understatement. She emerged from cult successes Rent and Wicked like she planned to own the franchises and her arrival on the high-school, show tunes, TV megahit Glee was only a matter of time. She arrived there as she arrived here with guns blazing. Don't even think of turning down the volume on Idina Menzel: she has one of those country voices born and bred on the city streets – a ballsy, open-mouthed, high-belting, laser that takes no prisoners and makes no apologies. She needs to sing against a big band – and she brought a very big one to the Apollo: 26 pieces led by her own rhythm combo with MD Rob Mounsey at the piano.
I can't think of another show singer who would even contemplate, leave alone actually deliver, "The Wizard and I" – her Wicked entrance number – and "Don't Rain On My Parade" back to back as a warm-up. Boy, I was beginning to think we might have to ask for a power ballad off for good behaviour. But it did make me mourn the fact that she wasn't snared for Funny Girl on Broadway. Her feisty patter and mouthy manner might have produced a Streisand performance for the now generation. Speaking of patter – there was a hell of a lot of it in her 105 minute set. There are only so many times we can be told what a wonderful audience we are and how much she loves our city. She needs to quit stalling and trim it back. But amidst the rambling there were revealing snippets. I have to say the revelation of her as a Wedding Singer didn't come as too much of a surprise though the telling samples from her repartee were as hilarious as they were alarming. The lavishly full-skirted gown she wore bare-footed was a great metaphor for the homespun girl made good. The way she kept scrunching up and fiddling with her skirts suggested that she'd have been far happier in a pair of jeans.
But what you see is what you get with Menzel. We were all there for the thrill of hearing her nail things to the back wall and even when she got all serious and emotional on us – as when recalling her friendship with the late, great, Marvin Hamlisch – the delivery was still Menzelesque. She sang Hamlisch's favourite song, the one he was proudest of – "At the Ballet" from A Chorus Line – at his funeral, and she sang it again here, following it up with the 11 o'clock ballad "What I did For Love" from the same show. And I might have been more moved if she'd made more of the words instead of melding them into the vocals. You should never feel that an artist has sung certain songs too much.
There were two clear highlights in the evening: her invitation to be joined on stage by willing (very willing – as in stand on the seat and send out semaphore) volunteers to join her in "Take Me Or Leave Me" from Rent. Three Rent-heads really, as she put it, "kicked ass" with their vocals. They were so good that I began to suspect plants. Where are the X-Factor producers when you need them? To the first lad – who clearly signaled to his friend to "take pictures" – Menzel quipped: "Do you know "Defying Gravity" because if you do I'm going home!"
He didn't and she didn't but, of course, she mounted the metaphorical broomstick and sent out that message loud and clear. But there was one more message still to come and maybe, just maybe, it demonstrated how much more heart there is to Menzel when she turns down the decibels and just "communicates". It's an old trick now to switch off the microphone and take your audience well and truly into your confidence – and she touchingly did just that with "For Good" from Wicked. Suddenly less was definitely more.