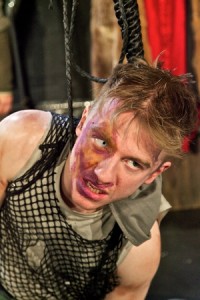 There has never been any doubt in my mind that Lionel Bart was the quirkiest, the most extraordinary, and potentially greatest musical theatre talent that this country has ever produced. Quite apart from the scarcity of those practitioners equipped to write book, music, and lyrics (though, of course, he didn't actually read or write music) he was impossible to second-guess or imitate. His melodies were inimitable, infused with the cantorial ring of his Jewish heritage, wonderfully probing, and insidiously catchy.
He wrote his take on "The Hunchback of Notre Dame" – Quasimodo – at the peak of his creativity between Blitz! and Maggie May (both shows and scores that this writer cherishes) but was never able to bring it to book-ready form. I, for one, have longed to hear the complete score but never hoped to see it in the theatre. At the King's Head, Islington, they are giving us just that – a staged World Premiere with book additions by Chris Bond and the director Robert Chevara and clever three-part orchestrations (piano, of course, plus the Klezmer-flecked colours of accordion and clarinet) by Peter Mitchell. The concept is very much from Pippin and Godspell stock with a raggedy troupe of strolling players mixing up the melodrama and music hall in ways that Bart's innocent and painfully honest imagination will, I think, have recognised as the spirit of his piece.
Bookwise it's clunky and tenuous, still "unfinished" in character and cast, but its cheesiness and disarming directness has charm and good humour and – that word again – innocence, and the pathos when it comes still somehow manages to feel earned. Of course, it's the old Phantom and Beauty and the Beast ethos and some have suggested that Bart was drawn to Quasimodo (meaning "unfinished") because he thoroughly identified with the outsider within. In Chevara's staging Steven Webb is the good looking young man within the deformed creature, only the partial make-up mask suggesting the single eye and the twist of his flawless body the spinal curvature. Look, no prosthetics (thank heavens). Webb plays him with an inner virility and child-like simplicity that is very affecting. There's even a hint of Frank Spencer in the voice (an unintentional allusion to Crawford's Phantom?) and the moment where his soulmate Esmeralda asks why he is protecting her is answered with the words "Because you gave me water" – this is the Christ on the way to self-sacrifice moment.
It's very rudimentary as drama, this piece, this staging – in a sense the fringe-like back-to-basics feel works in its favour – but what shines out from it is the way Bart now wanted his songs – lots of them – to carry the narrative; not in any quasi-operatic way, none of that sung-through recit, but rather as a way of asserting that his songwriting could and would entirely carry the emotions of the piece.  Every number here has purpose and its own distinctive character be it the music hall inflected "To Have and To Hold" or the comic counterpoint of "Eh? What Do You Say" or the insanely capricious Consider Yourself-like lead in to "Introducing You" where Quasimodo introduces Esmeralda to his bells, each with a name and personality.
Then there is the insanely memorable "Abracadabra" and Bart's clever way of offsetting a lovely melody with a deliberately corny turn of lyric or combining melodies and emotions in telling counterpoint. Who but he could have penned a ballad like "So Let It Be" (wholeheartedly sung by Zoë George) or given vent to Quasimodo's joy in the entirely unexpected and rangy "Ring Out Bells". The point is that all the songs of this score possess their own irresistible hook. And just when you're thinking that Bart hasn't the chops to crack the terrible isolation of his anti-hero at the climax of the piece he takes the haunting refrain of the number "If Only I Were Made of Stone" and turns a cliché into a moment of genuine heartbreak.
A collectors item for all who care about Lionel Bart's extraordinary legacy.