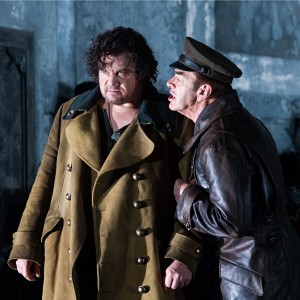 It is 30 years ago – but feels like another life – that David Alden first exploded on to English National Opera's Coliseum stage with his forever notorious cut-price staging of Tchaikovsky's Mazeppa. None of us there will ever forget the high-drama of that evening on stage and off. The booing began with the ballet about 20 minutes in and at the close even "impartial" critics (yes, myself included) were howling our approval – or otherwise – publicly. It was the beginning of an era, a formidable association, which has continued through to the current production of Otello and Alden was on stage (as he wasn't on the opening night of Mazeppa – he had to be somewhere else and will forever regret that) to receive adulation and a couple of keepsakes (but no chainsaw) for his extraordinary work at ENO. He says he has mellowed. Not for much longer, we hope.
Actually his Otello (come on, folks, it is in English) struck me as rather too mellow – or should I say comfortable – and teetered a little uneasily between his trademark stylisation and starkness (that striking monochrome look with stunning lighting from Adam Silverman) and a confusing mix of very specific period references (between the wars) and a pointedly colour-blind portrayal of the title role. Most interesting, in terms of the on stage drama, was his focus on the still, sly, predatory form of Jonathan Summers' terrific Iago who is still there silently watching – like Hagen in the shadows – at the tragic conclusion of the opera. Casting him older – a "faithful" lieutenant whose ship has plainly sailed – adds a dimension. Here is a man so overlooked and for so long that most people, including Otello and his own wife Emilia, barely notice him anymore. When he begins his Credo he closes the shutters to keep out the light – and when he sings it's as if every single word is leaving a bad taste in his mouth. As well it might. In the baiting of Cassio scene he engages in a game of darts on Otello's favourite icon of the Madonna. Is nothing sacred? Of course, not.
But I wanted more of that Alden and less of the Alden whose trust in his movement director (Maxine Braham) was misdirected in the first two acts. Somewhat embarrassing, this choreography, when I think back to the cutting-edge Mazeppa. And I did wonder if he could have pulled Stuart Skelton further back from Grimesian tendencies in his physical portrayal of the title role? By that I mean somehow curbing the physical agitation (how many chairs can one actor throw in a single evening?) in favour of something stiller and more internalised. Skelton has such vocal and physical presence and Otello is, for all his personal insecurities, a warrior, a stoic, heroic figure. I'm not sure we should be seeing visible signs of disintegration until the meltdown of act three when Alden finally has him hurl his papers – the affairs of state – and his authority to the four winds.
But one must marvel at Skelton's singing of the role, at his ability to find tenderness and the transporting lyricism of love in the vocal writing. The big moments are craggy and fabulous, too, and the blooding of he and Iago in the thrilling act two duet is vividly underlined in the primitive fire of the singing.
Nor will you hear a better Cassio that that of Allan Clayton or a stronger Emilia than Pamela Helen Stephen. At first I wondered if Leah Crocetto's Desdemona was not showing us too much of the dramatic colour of her voice too soon – it is indeed a rich and amply bestowed instrument ideally suited to the emotional rigours of act three. But she has a really musical, Verdian way with phrasings and her final scene – not least her final blood-curdling cry to Emilia – cut to the quick.
Musically, then, an evening of sky-high values fabulously helmed by Edward Gardner whose conspicuous Verdian prowess and the marvelous resource of the ENO Chorus and Orchestra made for commanding power and beauty. What a way to start his final season.