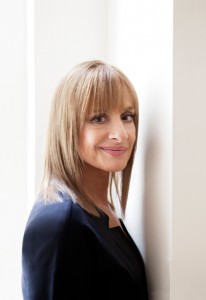 Here she is, boys, here she is world, here's… Well, maybe not quite yet. Patti LuPone's accompanist and confessor and all round waspish side-kick this time around – Seth Rudetsky – was also her warm-up act. Writer, musician, radio host, and Broadway aficionado Rudetsky makes something of an art of camp informality and, boy, was he in good company with this audience. But before we ask what on earth Olivier and two-time Tony Award winner Patti LuPone was doing in the beery basement that is the Leicester Square Theatre, where TV screens trumpet future attractions like Varla Jean and Well Strung (might they, perchance, be part of the same act?), we need to grasp the rude fact that this was no ordinary cabaret but rather more of a house party in which Seth shared some much treasured home movies – classic clips like the Leslie Uggams "June is Bustin' Out All Over" where the lyric of a much-loved song spawns a whole new language (check it out on YouTube) – and then, in a sense, shared Patti, coaxing her (in no set order – that's the fun of it) from anecdote to song and back again and even, in a Wednesday night coup, persuading her to sing a song I honestly thought I'd never hear her sing again.
Patti is a marvel, a force of nature, but the thing which truly electrifies musical theatre fanatics such as yours truly is the sound of a voice which belongs to a time and place we might otherwise think is lost forever. She is the classic Broadway belter with a mix at the top of her range that still, in her maturity, sounds like a pure belt and still send shivers of excitement across the scalp and down the spine. There is that country twang in the delivery, too, sexy glottal stops that make her instantly identifiable. Patti is Patti.
She kicked off with something snappy (and then some), a catalogue of verbal acrobatics (most of which I could make out) courtesy of Cole Porter – "Come to the Supermarket (in Old Peking)". As warm ups go this one was a degree or so below boiling point and showed us that fearless energy which characterises LuPone's stage persona.
The chat was revealing, too, and the songs that came out of it far from predictable. Ok, so "I Dreamed a Dream" was an inevitability (pace Subo) and showed how the storytelling (if not always the pitching) is as sharp as ever and how technique can still carry her through most difficulties. That was a big part of the Wednesday night show – technique and how the lack of it almost did for her at the time of her career-defining big break in Evita. I can recall a similar conversation I had on air once with Angela Lansbury where she admitted that had Anyone Can Whistle (her musical debut) lasted longer than 9 performances and 12 previews she would have been in deep shit (not her word, I hasten to add) – like Patti she was pure-belting through a singular lack of technique which ambition and fate had put on the back burner with almost fatal results.
Patti did pull it back and the big surprise (on this night at least) of including so much Evita this late in her career was clearly to prove a point – that she can sing it better and less riskily now than she did then. Hell, she even did "Rainbow High" and if there's a rangier, more killing, number to sing six days a week then I've yet to hear it. This RainBOW is higher than a dog can hear. But then there's "Screw the middle-classes…" and having identified that as the point in the show to get past if you had any hope of finishing it, it blew my mind that she would ever revisit it, especially, as here, to make a young audience member's night, year, decade, lifetime, by singing the Eva/Magaldi duet with him. Nic Gibney's currently touring with the show and casually (hopefully) Tweeted Seth Rudetsky. Ah, the magic of social networking making dreams come true.
And then, of course, there was Mama Rose – and, yes, it was Ethel Merman's show but she didn't go for the high C-sharp in "Everything's Coming Up Roses" and nor did she do what only Patti has done and hit the "me" hard in the final line "Everything's coming up roses for ME and for you". That's the key to this act one curtain – it's all about Rose.
So the word is out now – on Wednesday night Patti LuPone put a ghost to rest and was persuaded (partly as a bet between Rudetsky and Patti's son Joshua who was in the audience) to sing "With One Look" from Sunset Boulevard. She used the music, she stayed safely behind the piano (because, as she put it she was "frightened"), but with the words "this time I'm staying, I'm staying for good" she seemed to be putting down her marker for immortality. You can take the role away from me, she seemed to be saying, but you'll never silence this Norma.