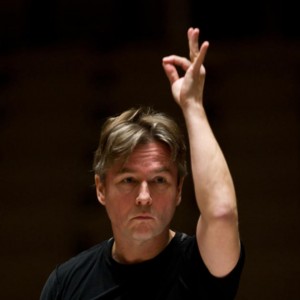 Of all the heavyweight anniversaries being celebrated this year the name of Witold Lutoslawski will have been less at the forefront of peoples' minds had the Philharmonia Orchestra and their Principal Conductor and Artistic Advisor not chosen to honour him with their Woven Words retrospective. I myself met Lutoslawski many years ago around the time of the Third Symphony premiere and his graciousness and charm put a very young journalist at his ease. We looked at the Third Symphony score together and I remember thinking how interesting it was that something so fastidious, even precious, on the page (his musical calligraphy was exquisite) sounded so wildly expressive.
That was the first contradiction to strike me. And it opened up an understanding in his case of the relationship between order and freedom, precision and chance. His interest in the aleatoric did not really square with this dapper, softly and precisely spoken, man. That was to be the first of many surprises as my interest in, and familiarity with, his music grew.
The opening concert in the Philharmonia's celebration will have instantly won converts and reinforced existing loyalties. Two works – one that really began it all for the composer, the other a much later masterpiece – made an immensely powerful impression back to back. Musique funèbre for strings was conceived in part as a tribute to Bela Bartok and it's frail opening canon in three cellos is immediately redolent of the mysterious voices that open Bartok's Music for Strings, Percussion, and Celeste. This extraordinary threnody turns a succession of canons into a potent expression of collective grief. Privacy is turned publicly on its head when scrunchy chords are heard in harrowing reiteration and in the section marked "Apogee" they spill over into a big heartstopping unison tutti. It is moments of uninhibited frankness like this that make Lutoslawski one of the great "communicators". He can be complex as hell but still draw you into his confidence and keep you there. The way audiences really listen to his pieces, as they did here, is testament to his special gifts.
And only Lutoslawski could have written a Piano Concerto which honours and  celebrates rather than turns its back on the grand traditions that the form espouses. Virtuosity is one aspect of that tradition and in writing for a great Polish master – Krystian Zimerman – he was clearly exercising his determination to keep the form alive for as universal an audience as possible. It is a staggeringly good piece and this performance from Zimerman and Salonen was, well, staggeringly good. The allusions, or you might say "homages", are many and obvious from the elegant and piquant so suggestive of Ravel – crystalline arabesques and other florid flights of fancy – to headier inferences of Scriabin and Szymanowksi to the thunderous grandiosity which speaks of Brahms and Rachmaninov. There is an extraordinary still centre to the piece – an achingly beautiful solo rumination which speaks volumes for Lutoslawski's ability to embrace the improvisatory in his work and the culminating movement, a dazzling Chaconne, culminates in a helter-skelter of breathtaking surprise and makes it hard (for me, impossible) to follow.
And what riches to come.