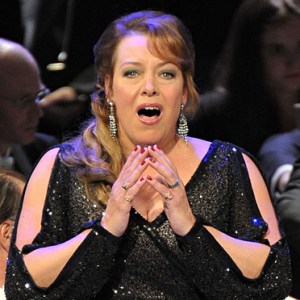 It has been said many times (and by Strauss himself) that the title role of Strauss' Salome requires at least two different voices. Nina Stemme has both of them. And so seamlessly, artfully, are they rolled into one that it is hard to think of any other singer at the present time who better encapsulates and commands every facet of the role, both vocally and dramatically. This was one of those extraordinary hearing-is-believing performances (rather like her Brünnhilde in last year's Ring) where one puts aside the idea of realistic concessions (or as Strauss put it himself: "A 16 year old with the voice of Isolde") and simply marvels at the completeness of the portrayal. But then the context for it was so magnificent with Runnicles and his Deutsche Oper Berlin Orchestra so alive to every freakish, hallucinatory, and fantastical colour of this miraculous score. It was certainly one of the best single live performance of the piece that I have ever heard.
Stemme is a model of how a moderate sized voice can so thrillingly command a space as big as the Albert Hall. It's all about focus and projection and singing on the sense and the emotion rather than the capital. The creepy girlishness of the early scenes with the fioritura of the writing kept light and translucent, the ominous descents into darker regions (but note, no harmful "chesting"), the sudden vulnerability and fragility, and most astonishing of all (and this is the surely sign of a healthy voice) her breathtaking ability to go from the full-throttle climaxes of the lurid final scene into the finest shadings of airborne pianissimi. Stunning.
I spoke then of the capital and what happens if you are pushing to fill the space rather than singing within yourself. Samuel Youn's Jokanaan had that problem, I felt. Lovely sound, authoritative colour – very affecting in his softening of tone when he feels he might be getting through to the girl – but over-eager, perhaps, to make his mark on the furthest balcony resulting in an embarrassing moment of collapse in his vocal support.
The Herod of Burkhard Ulrich was sensationally good, incisive and lascivious with his words, brilliant in conveying the rising fever of lust and exasperation, all of it ringingly endorsed in his singing (and he really did sing the part) and his body language. For sure he had a handful in Doris Soffel's Herodias who tucked into the part as she might a four-course meal, blissfully in denial that the opera was not called Herodias and pulling focus every which way. Marvelous value, though. For someone of her vintage to produce such mighty notes whilst brandishing her rasping chest register like a weapon of mass destruction was something to behold – though if I were a stage director I might have my work cut out.
I'm not sure how well Thomas Blondelle's Narraboth carried (I was in reasonably close proximity) but I appreciated his youthful lyricism and finely shaded lyricism. And what an ear-catching voice with dusky low notes from Ronnita Miller as Herodias's Page.
But, of course, it is Strauss' orchestra that is the purveyor of all that is luscious and unsavoury in this night of lust and abuse – and Donald Runnicles was on the case with his Deutsche Oper Berlin Orchestra turning the Dance of the Seven Veils into the most scintillating and shimmering kind of foreplay for Salome. And elsewhere the freak show came at us in extremes from ear-piercing E flat clarinet on the top to the most obscene gyrations of contra-bassoon. And to have the luxury of that Albert Hall organ adding an eerie light of its own to the final scene was just, well, gothic. A fantastic night.