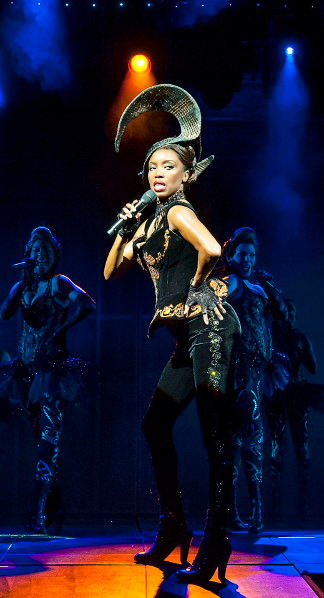 It starts with the gunshot. It had to. Legions of Bodyguard aficionados who know the movie frame by frame will have cried blue murder if it hadn't. So there it is – the opening scene of the film played out rather stiffly in a theatre that's only staged musicals for as long as any of us can remember. But before we can take that in we're blasted by X-Factor like captions hurling out the statistics for superstar songstress Rachel Marron and in a blaze of moving disco lights and pain-threshold sound levels there she is rising from the stage like some kind of golden sphinx. And as she – a.k.a Heather Headley – heads down the obligatory catwalk into our midst with the first Whitney of the evening it is already all too clear that in 'The Bodyguard – the musical' the melodrama is going to spoil the cabaret.
Actually The Bodyguard isn't a musical at all. It's a pretty faithful dramatisation of the movie with 15 Whitney Houston hits either played out as contextualised production numbers or used as internal monologues for Headley's Rachel and her overshadowed (though not in this show) sister Nicki, played with feisty and challenging relish by Debbie Kurup. They are quite smartly integrated, it's true, but to get to them we have to wade through an oh, so predictable thriller whose only twist is that the Bodyguard, Frank Farmer (Lloyd Owen), falls in love with his client. And the reality is that however well the dialogue scenes are played and however truthfully directed (in so much as she can) by Thea Sharrock, what we are seeing here are two alien genres, the movie thriller and the compilation musical, uncomfortably co-existing. You just can't transfer that movie naturalism to the musical theatre stage however earnestly you try. The grandstanding stylisation of the evening – and that's the exciting part of this show – will always overwhelm it.
But, hey, they have a decent crack at making the impossible viable and this is high-end product with expensive production values. Tim Hatley's sliding panels and flowing chiffon drapes achieve a kind of cinematic grace dissolving from one scene to the next or opening or closing around the action to achieving "close-ups" or "wide shots". There are even overhead "shots" of Rachel's stalker (Mark Letheren) working at his poison pen letters, some judicious video, of course, and a conspicuously solid looking, snow covered, cabin in the woods. There was no getting away from that being the real deal. Or indeed the moment when Farmer rescues Rachel from that threatening underground club (I almost forgot the inevitable "slow-mo") and whisks her off her feet into that pose. A little shiver down the spine at that point.
From a dramatic point of view the smartest scene in the show – and one they've added a new twist to – is the scene of Farmer's first "date" with Rachel in a down at heal bar on karaoke night. In a game of truth or dare Farmer ends up having to sing – and the number he sings (or tries to) is… as if I would give that away. But then Rachel incognito sings one of her own – "I Have Nothing" – and in a way that is only possible in the theatre the song is opened out to clinch the moment we've seen coming and draw Rachel's sister into the fateful equation.
And Heather Headley had better watch out because Debbie Kurup is a scene stealer with one hell of a vocally delivery. Headley herself is pretty sensational where it counts (i.e. the big sell moments in the big sell numbers) and her scenes with Lloyd Owen's laconic Frank have a kind of filmic intimacy if you can just suspend disbelief in what this show is trying to do here. That isn't easy. But fans of the movie will be coming for the soundtrack, for the Whitney songs, and hopefully they'll buy Headley's take on them. The dynamite reprise of the big one – "I Will Always Love You" – is wonderfully over the top and quite literally elevates the star of the show to goddess status. Well, that what you came for, didn't you?