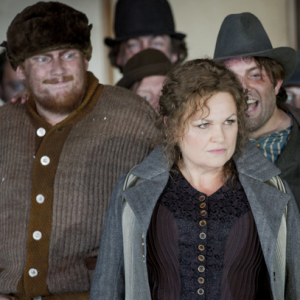 Well, there won't be any complaints about performing this one in English – or should that be American. Thank heavens Richard Jones has made Puccini's spaghetti western an operatic-home-counties-free-zone and got his cast delivering Kelley Rourke's translation with enough of a trans-Atlantic drawl to affect a colloquial tang. Let's face it, great swathes of this libretto sound pretty silly in Italian. And there's a scruffiness about this gold rush mining community which at least needs to nod at naturalism. What we don't get here is Ken Adam naturalism – as witness the Royal Opera's classic staging – where the length of the intervals reflected the size of the sets and the Italian seemed even more out of place. Set designer Miriam Beuther gives us signature Jones minimalism and a tin shack Polka saloon where barely a flash of neon suggests there ain't that much gold in them there hills no more and a game of cards decides pretty much everything – including who lives and who dies.
As the explosive wide-screen opening of the prelude swept through the auditorium Jones had a wash of white light suggest the reflection of the silver screen on all of us gazing expectantly at the stage curtains. Of course, when Jones shouts action the stage blocking is always exciting (great ensemble work) – and funny, too – with every son of a bitch quick on the draw at the first sniff of trouble. If you were looking down the wrong end of a barrel it would be more like three dozen barrels in this show where the testosterone is all-consuming and the men learning to dance at the Polka have to dance with each other. And how telling that on "earth mother" Minnie's grand entrance Jones has her back to the audience, six shooter drawn, making her seem just that little bit more mythical.
Susan Bullock (who'll soon be launching into "There's No Business Like Show Business", mark my words) seemed so credible as mother, sister, would-be home-maker to all these "boys". She made the sung dialogue sound so free and easy and by the end of act one where Dick Johnson calls her "Angel" and with a single term of endearment captures her heart she had captured ours. There's no trickery or secret to this – it's her total honesty as a performer, an actress, a singer, that connects her to an audience. How touching she was calling in a lifetime of favours in the final scene and equally how great that she and Jones could find humour in the life-or-death card game of act two. It was like she had a whole pack of aces hidden in her bosom and, boy, if Jack Rance didn't spot those he deserved to be taken. I love that Richard Jones can laugh at something and still believe in it. He's a master of irony.
And he inspires performers. Craig Colclough as Rance and Peter Auty as Johnson both shared Bullock's believability and Auty, whose heroic tones now sound so well-settled, was wholehearted in his big moments and thrillingly secure at the top of the voice. Smashing cameos from the unmistakable Graham Clark as Nick and Leigh Melrose as Sonora. The energy that comes off both of them on stage is beyond infectious.
I absolutely love this score and so plainly did Keri-Lynn Wilson who conducted it with conviction and affection. The big moments were epic, the tender Old West sentimentalities heartfelt. And as Minnie and Dick rode off into the sunset what a coup to have their perspective as her "family" slips gently away like a John Ford tracking shot.
Image: Susan Bullock as Minnie in ENO's Girl of the Golden West
Credit: Robert Workman