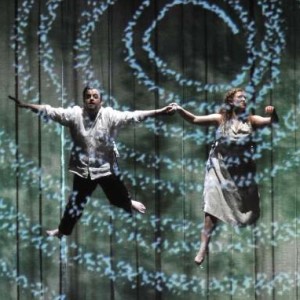 Out of the mouths of babes… the wise child that is Simon McBurney takes his cue from the "three young boys steeped in ancient learning" – a description he takes literally by transforming them into little old men – and spirits us through Mozart's The Magic Flute with a mix of naiveté and cunning, invention, sophistication and wit that has become his stock in trade. He brings Mozart's orchestra into our midst once more, raising the Coliseum pit to our level, the people's level, and the people's hero – Papageno (an earthy Roland Wood) – mingles among us as the long-awaited enlightenment dawns. It's a long time coming, of course, but the darkness that envelopes us as Queen of Night's birds blot out even her shroud of stars makes the belated arrival of the sun all the more potent a symbol of new beginnings.
Key to McBurney's staging is the delicate balance between pantomimic innocence – as represented by the chalk-on-blackboard doodlings of the on-stage illustrator and his opposite number in the sound effects booth – and a searching, even sinister, mysticism. Dark figures emerge from the orchestra, sheets of paper fluttering to life as Papageno's birds flock to his bidding, disbelief suspended as we witness magic in the making. And all of this is compounded by Michael Levine's deceptively simple but actually hugely technological set with its hoisted platform lifting and tilting to divide worlds and create ever changing planes of action. The video (Finn Ross) is eye-popping and can transform the moving platform into a gigantic open book on which the Speaker (Steven Page) might appear to turn the pages of the next chapter in our learning. Images of Pamina appear on a myriad surfaces and the climactic trials of fire and water are for once genuinely awe-inspiring.
By the close of the first act I wondered if McBurney was overworking the darkness – even Roland Wood's Papageno seemed to be muted, the comedy of Stephen Jeffreys' smart translation rather laboured in its effect. But things broadened in act two when Papageno declined joining Sarastro's "club" and in the scene between him and Tamino where silence was required to be golden the sound of a creaking floorboard (amongst other things) became funny in an insanely slapstick kind of way. Wood really came into his own with Papageno's wilful childishness even pissing into a vintage wine bottle to get the pitch up as he fashioned boozy magic bells of his own.
Sarastro (James Creswell) was a microphone toting evangelist of sorts, his followers suited and booted and all set for conference – to which we were cordially invited at the start of act two. Fascinating, too, to see Queen of Night played as old and wheelchair ridden (her music is decidedly Baroque, after all) and to offer her compassion instead of banishment at the close of the piece. McBurney has rightly observed that she remains Pamina's mother whatever her darker motives. She, too, is entitled to see the light. Cornelia Götz gave the coloratura of her two celebrated arias some edge though we could have done with more voice in this house and the high Fs sounded like separate events, pinched and suddenly different in colour.
Devon Guthrie's Pamina was lovely for the most part though the aria "Ach, ich fühl's" was surely too slow (her choice or that of the otherwise lively conductor Gergely Madaras?), its ebbing rhythm lost in the process and the natural fluidity of the coloratura rendered sticky despite Guthrie's vain attempts to give it shape and movement in those bars. There's a lot to be said for the "period" approach to tempo in this number.
Ben Johnson's Tamino did just about everything right. Especially impressive was the ring of heroism in his sound, the extra weighting and darkening achieved without any sacrifice of lyric beauty. He grows with every performance.
And so the sun – stunningly realised in a Busby Berkeley aerial shot with Pamina and Tamino at the centre of a corona of human forms – did come out and as light at last flooded the stage the ENO Orchestra, whose very own "magic flautist", Katie Bedford, was so integral to the stage action, rose to its feet to greet whatever the new age might bring.
Photo: ENO Magic Flute with Ben Johnson and Devon Guthrie
Credit: Robbie Jack