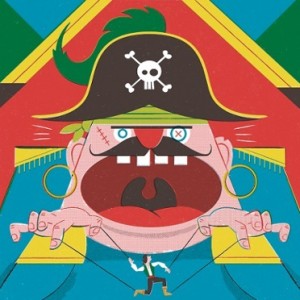 Let it never be said that English National Opera hasn't done its bit for Gilbert and Sullivan – but the fact that only one its several stagings has achieved recognition and longevity surely says something about the very particular difficulties of this fragile repertoire and the suitability (or otherwise) of the London Coliseum as a place to communicate its musical and verbal deftness. Of course, Jonathan Miller took on the space with his lavish eyeful of a Mikado and we have marveled ever since at how he managed the tricky sleight of hand in both respecting the material whilst giving it a contemporary – indeed a showbizzy – twist. The rest is history.
But what you can't do in this theatre is something which might sit well in a theatre no bigger than the Savoy (where the G & S tradition still resonates) whilst living in hope that the designer Alison Chitty's jolly coloured minimalism will seduce the audience into thinking that they are watching something current and chic and splashy. From the fifth row of the dress circle this much-anticipated Mike Leigh staging of The Pirates of Penzance had about as much immediacy as a transistor radio in the Albert Hall (if ever there was a case for miking in this house this was it) – and whilst one might applaud Leigh for bringing to it a modicum of authenticity such as marked his lovely movie Topsy Turvy the reality was that his staging looked and sounded lost in the space that Chitty had created for him and worse still failed to capitalise on the wit and satirical edge of the humour. Act one was dismally slow and witless – third rate in terms of its stagecraft – and only seasoned performers like Rebecca de Pont Davies as a raddled and limping Ruth and the ever marvelous Andrew Shore as the very model of a modern Major-General Stanley managed to rise above the lifelessness of it all. Indeed Shore all but salvaged the impending shipwreck.
Act two brought the odd desperately needed visual gag (don't get too excited) as Alison Chitty's front cloth substituted a seagull for an owl in keeping with the nocturnal setting and the local plod magically assumed a gravity-defying Busby Berkeley moment. The piece also gets stronger and easier to leave to its own devices in act two though I could never buy the allure of 21-year-old Frederic in the seasoned shape of Robert Murray who looked closer to the age he might be if Joshua Bloom's swaggering Pirate King had held him to the terms of his apprenticeship based on "Leap Year" calculations.
David Parry brought a remote (from my circle seat) style and elegance to the score from the pit and from Claudia Boyle – a charmingly feisty Mabel – came the single loveliest bit of singing of the evening with "Stay, Frederic, Stay!" Vintage Sullivan stilling the room and drawing all our ears to one soft, affecting voice.
Whether or not this disappointing show will perform with more pizzazz at the box office remains to be seen (for ENO's sake I sincerely hope it does) but I've a feeling that Miller's Mikado will still be around long after Leigh's effort is full fathom five.