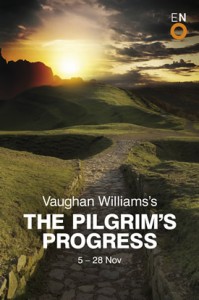 Not for nothing did Vaughan Williams frame his "Morality" The Pilgim's Progress with scenes of John Bunyan imprisoned. Bunyan would not conform to Church of England doctrines and neither, in his way, would Vaughan Williams. The Pilgrim's Progress is a spiritual journey – a quest for answers – and the length of its gestation suggests that its composer, rocked by scenes he witnessed during active service in the First World War, was far from satisfied with the answers that came back. Bunyan's "journey" struck a chord with him and so much of The Pilgrim's Progress is filtered through his own experience, his own trials and tribulations. The text is rich in "religious" platitudes but what really communicates is the sense of striving for a state of grace which transcends religious doctrines.
So Bunyan's incarceration is key to the freeing of his mind and spirit beyond the prison walls. And Yoshi Oida and his designer Tom Schenk have taken the critical decision to "confine" their staging – the first fully professional staging since the 1951 premiere – to the physical environment that in a sense freed Bunyan to "dream". To that end corroded steel walkways and doors are configured into ugly formations while some of the most sublime music ever to emanate from this green and pleasant land leads our ear and imagination beyond its confines.
It's a risky strategy and one which immediately invokes the grubby legacy of brutalist opera stagings over the last couple of decades – but its logic is inescapable and even if this commentator too often wished for less naivety and more theatricality the concept is an honest one and well tailored to the "tableaux" nature of the piece.
Oida, of course, draws upon his Japanese inheritance of the ritualistic with the magnificent ENO Chorus as a kind of commandeered prison populace assisting Pilgrim on his journey. There are flowers and prayer shawls, symbols of Englishness like umbrellas and bowler hats, and puppets, of course: the monstrous Apollyon is improvised from all manner of earthly detritus, its face a gas mask immediately triggering hideous recollections of wartime film footage. Some of that is used as a reminder of the work's context for its composer – and Tom Schenk, the designer, deliberately elects to restrict its use to a postage stamp screen – like a window from Pilgrim's cell to the destructive world beyond. The "King's Highway" – with its Onward Christian Soldiers connotations – was so obviously seen by Vaughan Williams as a metaphor for "going over the top". An ominous portent indeed.
One might easily predict what this director has made of "Vanity Fair" but even trying to eradicate all that you have seen on the opera stage over the last 20 years the vulgar masquerade that explodes on to the stage in a riot of garish colour still seems like too much of a cliché.
I'll not reveal the instrument of death which portends Pilgrim's death in this scene but its final appearance at the end of his journey is chilling and entirely apt with agents of the state – a lawyer, priest, and doctor – preparing him for death with the promise of eternity. Journey's End is a blinding light and heavenly choruses and I have to say that the juxtaposition of such drabness and sublimity is finally very powerful.
So, too, is Roland Wood's magnificent singing in the title role. The heartfelt resonance of some notes is still with me now. And to hear this wonderful score so lovingly attended by Martyn Brabbins and the ENO Orchestra is something which no one can afford to miss. Only six performances remain and whatever you feel about Yoshi Oida's take on the piece it is but one response to Pilgrim's line "Turn up my metaphors and do not fail" and should at least unlock one's imagination to the spiritual beyond the physical.