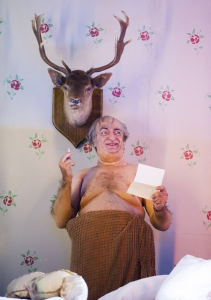 It's a world of girl guides, animatronic cats, and cabbages. Ford's garden apparently yields nothing else. And whilst the flat surfaces and wonky perspectives of designer Ultz' sets aren't too prepossessing in themselves they serve the child in director Richard Jones accentuating an eccentricity in his production that is indubitably and forever English. There's even a "Joke Shop" in the third act to remind us (as if we needed reminding) that "all the world's a jest". Verdi's Falstaff may be Italian in origin but it is English in spirit and through one of the great librettos in opera (Arrigo Boito) Shakespeare rules.
Actually the spirit of his comedy The Merry Wives of Windsor resides – in all its chortles and guffaws – in Verdi's orchestra and how better to pull it all into sharp relief than to deploy the very particular timbres of the Orchestra of the Age of Enlightenment to steam clean it under the expert ears of Mark Elder. I can't remember when I last heard a more articulate account of this great score. In marked contrast to Ultz' designs Verdi's orchestral writing is heard in perfect perspective dancing and dreaming from one scene to the next, a motley ensemble of instrumental "characters" vividly complementing those on stage. The rigour and rusticity of the strings with imperative rhythms underlining the hectic narrative; the incessant chuckling of the woodwinds, the often graphic bodily functions depicted in basso registers or the quivering jowls of low-stopped horns. And all this in marked contrast to the ethereal wash of wispy violins, all magic and fairy dust, in the final scene. Elder pretty much conducted from memory (intriguing to observe from a side box on this occasion) and no one can have left the theatre in any doubt of his deep affection for this most embraceable score.
What a fine Falstaff we had in Laurent Naouri, too, full of verbal and physical nuance. Spectacularly convincing prosthetics totally suspended disbelief that there might be a slim man lurking beneath the fat suit and perhaps that is why Naouri was able to convey so well the slender and elegant Sir John of yore in his ungainly twilight years. I should mention, too, the swarthy and resounding Ford of Roman Burdenko and at the opposite end of the vocal spectrum the charmingly Italianate Fenton of Antonio Poli.
Talk about warming our spirits on a perfectly foul English "summer's" day. Enter shivering, leave beaming.
photo: Falstaff, Glynebourne 2013 by Tristram Kenton