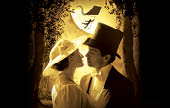 Finding Neverland – the new musical adaptation of the much-admired Miramax movie – is already an affecting show; it could yet be a really special one. Allan Knee's book (after David Magee's screenplay) is the key, the very best of foundations with magical solutions found to "theatricalising" a movie in which the the characters in J.M. Barrie's life become reborn in his imagination. The unlocking of his creative genius through his love for the widow Sylvia Llewellyn Davis (the excellent and very lovely Rosalie Craig) and her four boys is at the very heart of a story in which love begets art begets love and Barrie – searching for but never quite finding himself – is made whole again. We can all relate to that on some level or other, and so the moment when Barrie and his crew "Set Sail" on their awfully big adventure and the first image of his most famous creation is born with the words: "A nursery, an open window…" is about as thrilling an act one curtain as this book writer might have given us.
By this point in the show it had been well and truly established for this audience member that Scott Frankel's score was more than a cut above. With its beautiful, sometimes oblique, melodies and sophisticated harmonies (strikingly orchestrated by Bruce Coughlin) it keeps the ear searching and ideas like the radiant phrase which illuminates the words "He Makes Me Smile" stay with you as surely as does the stirring and unexpected "Lost Boys". The allusions – from Gilbert and Sullivan to public school anthems – tumble out and for an American to have caught so sensitively the ethos of Britishness is a blessing in a world so beset by "generic" musicals.
A full review is perhaps best saved until the show, now packing them in at Leicester's Curve Theatre, makes it (as it surely will with movie mogul Harvey Weinstein at the helm) to London's West End, but suffice it to say that the bones of the show and much of the flesh are there and it just needs an objective and expert and examining eye cast over the results to bring it to full fruition. It has a wonderful star in Julian Ovenden whose charm and sensitivity and sheer "boyishness" as Barrie – to say nothing of that fabulously tenorial top to his singing voice – anchor the show.
I would question the decision to bill this as "A New Musical Comedy" (doubtless to pull that precious "family" audience) but there is, of course, humour and light amidst the darkness and tears. It is uplifting rather than "feel good" – another glib selling phrase – and the awfully big adventure that the flying ship (though not at this performance) and Chitty Chitty Bang Bang car symbolise is secondary to the poignant love story that is its core.
In that regard I am puzzled by the climactic number "In the Blink of An Eye" which seems to me to not quite belong to the rest of Scott Frankel's lovely score and comes as a bit of an anti-climax at what is after all the emotional peroration of the show. This one number – and only this number – sounds generic at precisely the point where the development of earlier material might have found transcendence. And surely we need something more, musically speaking, where Barrie and the boys finally achieve "uplift"?
Finding Neverland is so very nearly there. But finding those final solutions – and making sure they are the right solutions – will be crucial to its success or otherwise.
Listen to Edward's "live and uncut" podcast with the star of the show, Julian Ovenden