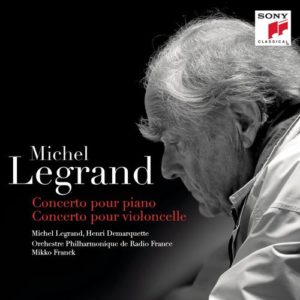 I have long adored the songs and admired the talent of Michel Legrand, inflected as it is with a jazzer's free-ranging melodies and oblique harmonies – but the devilish inventiveness of these concert pieces took even me by surprise. The fact is they don't really sound like anyone else, and even if you were to reach for comparisons and describe the first movement of the Piano Concerto as a little like the Ravel G major on speed you still wouldn't fully convey its distinctive musical character. 
It's a piece in a hurry alright – the first movement toccata is born of a jazzer's feverish note-spinning (Legrand is as we know a mean pianist) but with a classicist's precision. But suddenly in sweeps one of those lush Film Noir-ish themes so beloved of Legrand and all at once it's personal. In that regard you'd expect a song, or at least a songfulness, to emerge from the slow movement, and it does – a blue, oblique kind of tune, the kind of tune that would never need words. Again, all the harmonic progressions sound like they're happening in the moment and for one time only – the art that conceals art and springs deception – and there are always surprises in store: a sudden burst of piano in the trenchant finale which sounds like a fleeting homage to Stravinsky's Petrushka (panic in the puppeteer's booth) and a thrilling apotheosis which comes on strong like Gershwin rhapsodising in black. Both were Boulanger students, of course. 
In some ways the Cello Concerto (written first) is even more innovative. A driven brilliance still alternates with aching nostalgia , the evolutionary lyric ideas still spun in such a way as to belie that they have been written down, but there is a ruminative quality especially we'll suited to the cello – the piece was commissioned by the excellent cellist who performs it here Henri Demarquette – and in the final section of the piece – a long lament entitled "Le plus que lent" – it becomes almost a confessional. Legrand's love of theatre does not desert him, either. Just prior to this final movement he has the conductor slip from podium to piano (the instrument sits there unplayed for the rest of the piece) to accompany the soloist in a brief "aside" – a three-minute Sonata within the concerto, a musical joke sprung with composerly sophistication.