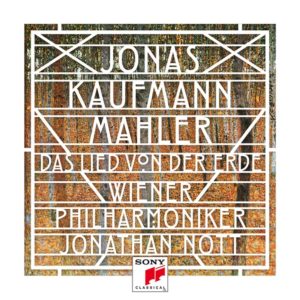 When you are as big a star as Jonas Kaufmann, when your instrument is fach-defying and your choices in terms of the repertoire seemingly boundless, you get to do pretty much what you want – including, it seems, re-conceiving Mahler's seminal song-symphony for a single voice. It's hard to know who thought this was a good idea other than Kaufmann himself (surely not the conductor, Jonathan Nott?) but record companies do love a vanity project even if it flies in the face of all rational musicality. I'm a huge admirer of Kaufmann in his many and varied guises but this is just plain wrong-headed – and to question Mahler, as he does in the liner notes, challenging the notion of two voices and even suggesting that one singer might provide a more coherent overarching structure is not worthy of such an intelligent artist. 
But the proof is in the performance and the contraltos and baritones whom Kaufmann hopes will forgive his "trespassing" will be smiling in the knowledge that Mahler, acting on what he heard in his mind's ear, really did know best and that the contrast in timbre and colour between the voices is crucial to the way in which Mahler's chosen texts impact on each other. The irony, of course, is that Kaufmann is dream casting for the tenor songs, rising terrifically to the heroics and darker hues of the opening song but equally identifying the sparkle and piquancy in "Von Der Jugend" and the contrasting rapture at the heart of "Der Trunkene I'm Fruhling" where inebriation gives way to dreams of Spring. Kaufmann's "covered" sound is quite gorgeous here. 
But because Mahler's voices are also instrumentalists in his orchestral canvass a tonal sameness prevails as we move from one song to the next. Those stunning shifts between two worlds, so to speak, are eradicated. Regardless of whether or not Kaufmann has the "baritonal quality" requisite for the songs normally sung by a contralto or baritone the reality is that he is still a tenor, the colour is tenorial (rather like Domingo moving into the baritone repertoire), and the change of timbre which defines the mood of the contrasting songs just isn't there. This has nothing to do with Kaufmann's sensitivity to text and musical line and everything to do with it being the same singer. There are phrases in these songs where a different kind of resonance is required for low-lying phrases – particularly the brooding invocations of "Der Abschied" where the line "I shall wander in the mountains seeking peace for my lonely heart", which Mahler so memorably picks up in the clarinet, always gets to me. How that moment resonates in my favourite performance of the piece from Leonard Bernstein with Dietrich Fischer-Dieskau (and James King) – also with the Vienna Philharmonic – it really is enough to break your heart. Nothing remotely on that level happens here. There's a whole dimension missing, and with all due respect to Mr Kaufmann we know what it is. 
Die-hard fans will, of course, want the disc; those who really care about the piece will not.