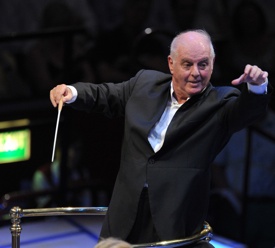 Senses we didn't even know we had come alive with the sound of that E-flat sunk so deep in string basses that it can be felt as well as heard. But the frisson we experience as this first note starts to resonate has to do with so much more than sound and sensation, atmosphere – it's the sense of something momentous beginning, of a journey stretching out before us, and it's that which turns the opening of Das Rheingold – the preliminary evening of Wagner's Ring – into a kind of communal meditation for audiences.
And so a packed and steamingly hot Albert Hall surrendered to the cooling waters of the Rhine as the horns of the Staatskapelle Berlin began their balmy descent through undulating strings. We were on our way. The first Ring cycle in a single season of the Proms was now a reality.
At the helm, arguably the most complete musician of his generation – Daniel Barenboim – arriving here in London from complete cycles of the Ring in Berlin and Milan. It showed. Das Rhinegold is perhaps the trickiest of the four operas to bring off being rich in exposition, capricious in nature, and so fast moving (something of a paradox) as to require wonderful reflexes from orchestra and cast alike. Text (as ever but in particular here) is paramount and it was wonderful to watch Barenboim, closer to his cast than he can be in the theatre, quite literally hanging on to every word, nursing them, weighting the emphasis and insinuation of key vocal lines. Words were generally fantastic given the lack of immediacy in this impossible hall – though I do wish the Proms would give us surtitles and not a clumsy libretto which pulls our focus away from the stage and into our laps with the added distraction of constantly turning pages.
The best thing of all about Barenboim's direction was his attention to detail in the orchestra where clarity and rhythmic keenness kept the piece buzzing. I used the word "capricious" – that surely is the key to this piece, and it was there in abundance. I've heard more viscerally thrilling accounts of key moments – like the descent into Nibelheim (rather feeble anvils) – but Barenboim chose his nodal points carefully unleashing a raging torrent of sound as Alberich finally banished the Nibelungs full knowing he had no further need of them. His monstrous ambition was contained in that single climax. And conversely that eerie wash of orchestral sound that falls over the proceedings as Wotan contemplates the Ring on his finger. Barenboim absolutely caught that – a moment of distillation where the huge significance of what has happened grips us all.
Barenboim's hand-picked cast was full of character and interest. Iain Paterson's first Wotan was immensely promising, less elemental, bass-heavy, weight than we will get from Bryn Terfel in Die Walküre but rich in pride and quiet authority and of a beauty we rarely hear from Wotans. The self-satisfaction and self-confidence he conveys for what he has achieved with Valhalla is always there and when he speaks of wily Loge's cunning and craft the finessing of the sound reveals his own stealth. He is very laid-back about how he will solve the Freia problem and effectively contrasts with Ekaterina Gubanova's noble-voiced Fricka who can see the problems ahead and switches brilliantly from shrewish disdain to tender insecurity.
This way of playing Wotan at the start of his journey (I can't wait to hear Paterson in Walküre) makes for a really compelling kinship of deceit with Loge and Stephan Rügamer, though a little low-key for this hall, sported a deft and silky bantam-weight voice with a nice line in waspish incisiveness.
Johannes Martin Kränzle's Alberich relished the text is marvelous ways, Jan Buchwald's Donner (looking a little like the late Richard Griffiths) wielded hammer and voice with vigour, and there was a suitably show-stopping entrance for the earth-mother Erda – the profound and rolling contralto of Anna Larsson – dispensing her wise words from the organ console.
Valhalla loomed in quite wonderfully quiet brass playing and as the gods duly laughed off impending doom and crossed the threshold of the fortress everything seemed to glow gold with six harps catching the light and the Albert Hall itself doubling very convincingly as the natural home of goldly corruption.
Photo: Daniel Barenboim conducts the Staatskapelle Berlin in Wagner's Das Rheingold at the BBC Proms
Copyright: BBC/Chris Christodoulou