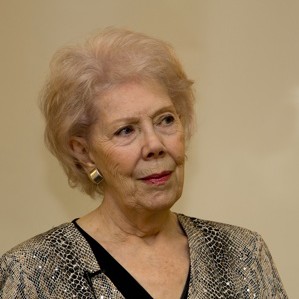 Every now and again – but only very rarely – a professional engagement comes along that is so personal, so loaded with treasured associations, that it transcends all normal parameters and takes on a significance all of its own. This was such an occasion.
I first met Dame Janet two years ago on the jury of the Guildhall Gold Medal for singers and somehow or other, despite the pressures of the evening, we managed to find a few quiet moments to reflect on some of my memories of her performing career. She was most gracious (and illuminating – we shared some Leonard Bernstein memories) and afterwards in a one of those pinch-me-is-this really-happening moments I escorted her from the Barbican to the underground (no chauffeured car for her) through that dank tunnel chatting the while about singing and singers, conductors, accompanists, musical styles, trends, you name it.
We met subsequently in a social situation and then word came through from the London Jewish Cultural Centre – where I have begun to do a number of "audience with" events – that they had secured Dame Janet for an evening at Ivy House. We all know how very rare public appearances from this legendary artist now are. Her premature retirement from stage and platform has been very private and in recent times has been given over to caring for her ailing husband Keith Shelley whose management of her illustrious career was nothing short of devotional.
Part of the joy and satisfaction of this evening came with putting the elegant and erudite Dame Janet before her audience once more and somehow validating the many years of pleasure she brought to those of us who admired and followed her every performance and recording. There are many treasures there, of course, and by necessity I was only able to represent six composers – Elgar, Bach, Berlioz, Britten, Gluck, Mahler. But they wove a musical thread through some riveting and highly philosophical reflections on the art and the "business" (in the commercial sense) of being a singer at Dame Janet's level; the importance of audience, of the right teachers and the right collaborators. There were fascinating thumbnail sketches of the great (but diminutive) Barbirolli; of Sir Charles Mackerras and his obsession with the ornamentation, of the tyrannical George Szell and humane Carlo Maria Giulini. We now know (and I was intrigued to know) why Dame Janet has never "chested" for dramatic effect either on stage or in a piece like Elgar's Sea Pictures where the temptation is strong. I assumed it was because she preferred to use the words for dramatic effect when in fact it was something far more practical – as in the configuration of her voice and technique simply didn't allow for it. Or, put more simply, she didn't know (or want to know) how to do it. We learned also how the physical abandon of her work on stage (from one so "composed" on the platform) was incredibly liberating for her – freeing her instrument, her whole being.
Part of the evening's magic lay in watching Dame Janet listen intently ("sheer torture", she described it) to her own recordings – sometimes with visible dismay, sometimes amusement. To be sat alongside her as the last of Mahler's Rückert Lieder – "Ich bin der Welt abhanden gekommen" – unfolded was positively surreal. In a song about the isolation and loneliness of the artist it conjoured so many emotions. Her second recording with Barbirolli – in my view one of the great lieder recordings of our time – transcends mere performance and takes us to an altogether other emotional plane. In her stillness and concentration it was as if she was actually singing one last time.
At the close of the evening I quoted back to her a line from her book Full Circle: "We are all soon forgotten; five minutes after I leave the platform for the last time I shall be forgotten." It hasn't quite worked out that way, has it.
Now that you can relive the event by clicking below, I just want to share a priceless moment that happened before we both went on. I felt a hand on my arm accompanied by the words 'Are you alright?' 'Im fine', I replied, 'A little nervous.' 'So am I' were the words that came back. How special was that.
First published: 30 October, 2013
Podcast: Play in new window | Download