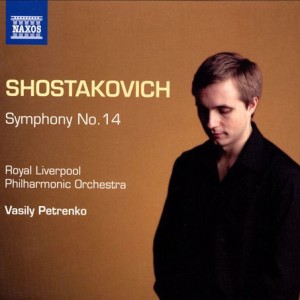 At its première in June 1969 Shostakovich described his Symphony No. 14, in effect a symphonic song cycle, as 'a fight for the liberation of humanity… a great protest against death, a reminder to live one's life honestly, decently, nobly…' Originally intending to write an oratorio, Shostakovich set eleven poems on the theme of mortality, and in particular early or unjust death, for two solo singers accompanied by strings and percussion. This is the penultimate release in Vasily Petrenko's internationally acclaimed symphonic cycle.
The Fourteenth Symphony is a powerful, death-obsessed work, unremittingly gripping, and the penultimate work in the canon of 15 symphonies. Petrenko's cycle has thus far received huge international acclaim, winning accolades from The Sunday Times, Gramophone, IRR, Fanfare, BBC Music Magazine etc.
The award-winning Royal Liverpool Philharmonic Orchestra is the UK's oldest continuing professional symphony orchestra, dating from 1840. The dynamic Russian, Vasily Petrenko was appointed Principal Conductor of the orchestra is September 2006 and in September 2009 became Chief Conductor.
Dmitry SHOSTAKOVICH (1906-1975)
Symphonies, Volume 10
Symphony No. 14, Op. 135
Gal James, Soprano • Alexander Vinogradov, Baritone Royal Liverpool Philharmonic Orchestra• Vasily Petrenko
Podcast: Play in new window | Download