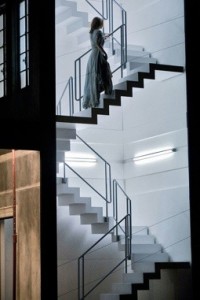 George Benjamin and Martin Crimp's Written On Skin arrives at the Royal House for its UK premiere trailing extraordinary plaudits from all who've seen it. One can understand why. Music theatre is such a delicate, precarious, business but when words and music and staging come together as they do here in a cunning and intricately dramatic alchemy the spell that is cast is palpable in the extreme. And yet, skillful and clever and evocative as Benjamin and Crimp's piece is, I do wonder if its impact could ever be as great divorced from Katie Mitchell's quietly potent staging. Could this, I wonder, be one of those instances – like the recently revived A Chorus Line, so definitive in Michael Bennett's choreography and staging – that the production becomes inseparable from the work itself. An interesting thought and one that will clearly be played out in years to come.
But make no mistake, this subtle and gripping piece is a great example of how words and music can together heighten the effect of what is being said and in so doing eradicate all sense of which is the governing force. Crimp's words and Benjamin's music impact on each other in telling ways, the word-setting so profoundly natural that even the most expressive musical line – and there are many whose ravishment transcends both singing and speaking – seems suspended between speech and song and often in moments of high drama deserts the musical line altogether to roar its outrage.
The premise is as simple as it is complex: a medieval tale of passion, adultery, and revenge rewritten from the perspective of now with all the thorough but dispassionate perception of an archeologist dredging through the past in an attempt to understand the present. There are references (some blithely unassuming) to latterday environmental and humanitarian concerns, not least, of course, man's repression of women. And what Katie Mitchell has made more explicit than even the text would have it is the sense of past and present as parallel universes beautifully realised in Vicki Mortimer's double-deck and sub-divided set in which the fluorescently lit, coldly analytical, laboritorial, work stations are starkly adjacent to the "illuminated" manuscript warmth of the past. As the story is written, Mitchell's contemporary "angels" are hands-on in the recreation or excavation, dressing and manipulating the key characters, physically moving them through, or removing them from, the story, fascinated by our human capacity for destruction but unable (or unwilling) to rewrite history. A Boy is butchered and unceremoniously bagged and removed, his blood cleaned up, as if beyond the pages of this manuscript the incident never really happened.
It's a powerful metaphor rendered even more powerful by Martin Crimp's masterstroke of rewriting the story in the first and third person to effect an unsettling friction between what is dispassionate retelling and what is suddenly real and immediate for us. So in the moment of seduction where the Boy (Bejun Mehta) and Agnès (Barbara Hannigan), the Protector's wife, express their mounting passion in the third person there is – at the climax of their love-making – a sudden switch to the first person as the woman proclaims "I am Agnès!" The jolt into the here and now is dramatically hair-raising. A story from the past becomes an action and reaction in the present. And that device is chillingly mirrored in the woman's terrible humiliation when the Protector (the amazing Christopher Purves), now smelling her adultery, demands that she repeat over and over "I am a child!" "No pure woman asks for a kiss. No clean woman asks to be touched."
I have already hinted at the ethereal spell cast by Benjamin's exquisitely orchestrated score – the way in which he achieves inward "illumination" from the timeless traceries of sound, not least in the string writing. But vocally, too, there is amazing sensitivity demonstrated in the way in which Bejun Mehta's countertenor and Barbara Hannigan's soprano are entwined in keening close harmony until they become almost indistinguishable from one another.
The exposition of Written On Skin simmers gently, hauntingly, for some time before igniting and I did wonder if the earlier stages of the piece were in danger of simmering for too long (a hint of preciousness, perhaps?). But when the drama kicks in it does so with astonishing ferocity, each of the three parts climaxing with a moment that resonates through the 800 years of the human story to affect us in the present. The beauty of Bejun Mehta, the fearless abandon of Barbara Hannigan, the menace of Christopher Purves – all three are quite extraordinary – these performances will be hard acts to follow, such is their fierce commitment and uncompromising bravery.
And I say again, Mitchell's staging will be hard to follow, too. As Agnès achieves a kind of "ascension" with her final act and Mitchell turns a cliché like slow-motion into heart-stopping poetic grace (and will there ever be a more apposite use of glass harmonica) you absolutely feel that the elements which make for memorable music theatre have found each other in ways that they so rarely do.
Photo: Barbara Hannigan as Agnès in Katie Mitchell's production of George Benjamin and Martin Crimp's Written on Skin. The Royal Opera 2012/13  © 2012 ROH/Stephen Cummiskey 
www.roh.org.uk/productions/written-on-skin-by-katie-mitchell