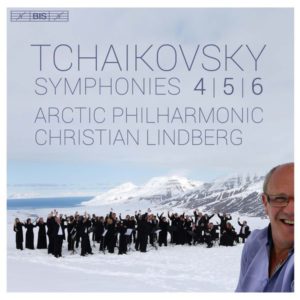 In a forward to the liner notes for this new BIS release superstar trombonist and composer turned conductor Christian Lindberg writes of his childhood obsession with the Tchaikovsky symphonies and in particular his fascination with the disparity of tempi revealed in different interpretations. His return to the composer's metronome markings would, he says, probably mark out his recordings as "different". Not really.
It is true that the impulse and imperative of these symphonies depends to a great extent on the momentum of those tempo markings – but Lindberg is hardly alone in pursuing the notion that Tchaikovsky's innate "classicism" ultimately trumps the age-old temptation to over-romanticise these marvellous pieces. Only a couple of months ago Semyon Bychkov's splendid new recording of the Pathetique (I have to say in a different league from this newcomer) reminded me that the edge-of-reason first movement is twice as effective if the impending crisis of the development is in part signalled by a swifter (as indicated), more anxiously songful reading of the lyric second subject. Lindberg achieves that, too – febrile is perhaps the word. But he and his Arctic Philharmonic Orchestra give us less of the emotive subtext than Bychkov. Atmosphere, too, is lacking here and to take just one technical example – when the clarinet switches to bassoon in the super-hushed pppppp moments before the thunderclap of the development it is neither quiet nor seamless enough (I still think there is a sound case for switching to bass clarinet here). Tension is dissipated.
On the plus side, Lindberg maximises the dramatic juxtaposition of the march scherzo and final adagio by pulling off an attacca that is rarely achievable in the concert hall when applause invariably intervenes and he surely makes a cri de coeur of the last great climax.
Otherwise we have a thoroughly decent but not exactly heart-stopping account of the Fifth Symphony with a first movement Allegro con anima that is certainly anima but without the heat of a Mravinsky or Markevitch. Much to savour in the shapely slow movement, too, though again the Russians have an ardour all of their own.
The Fourth is for me the most successful of the three performances with Lindberg balancing urgency with reflective other-worldliness in the first movement and the splashiness with the ineffably wistful in the finale. Oddly (given who he is) the trombones don't really make their mark in the momentous climax of the development or the moment where fate comes knocking one more time in the finale. There is greater immediacy in the woodwind balance with characterful playing to the fore in the folksy plain-speaking second movement.
But competition in these pieces remains impossibly fierce and, eccentric or not, once you've heard Mravinsky and the Leningrad you are spoiled for life.